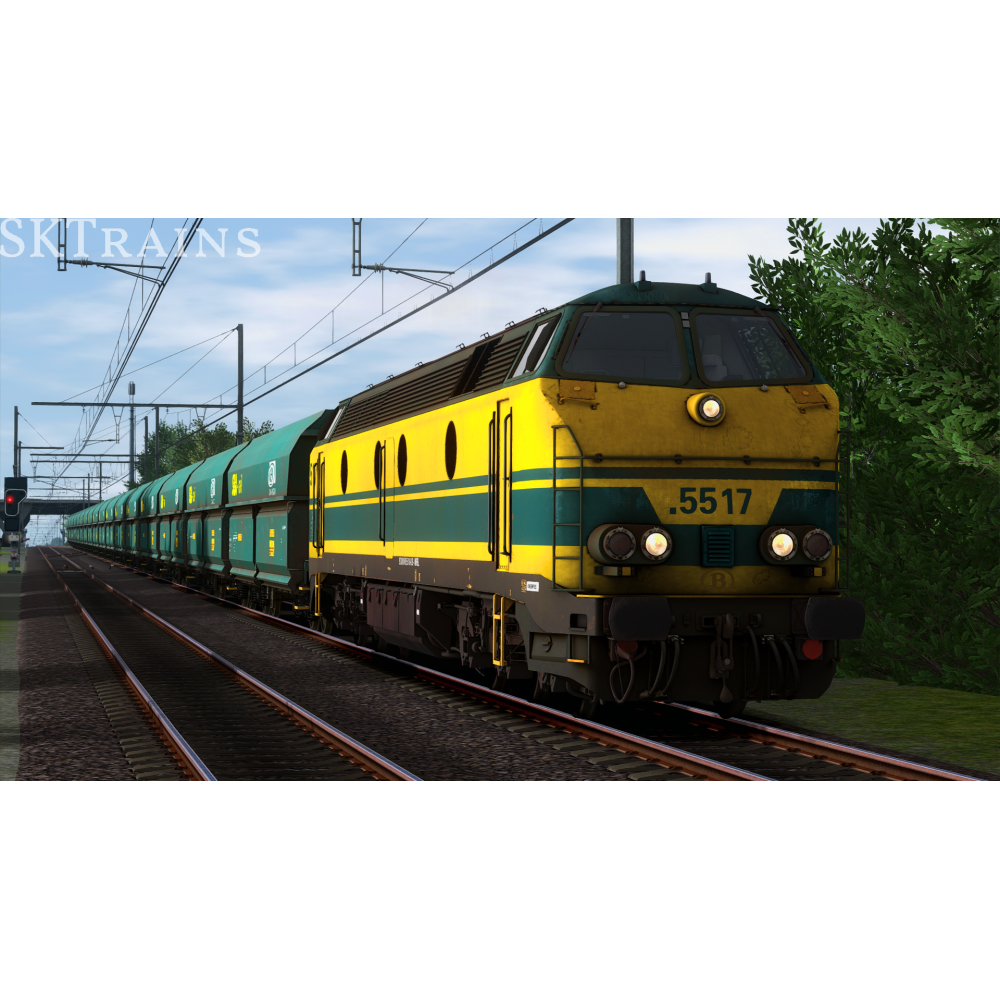  
SKTRAINS HLD55 Jellow
Take control of a type 55 diesel electric locomotive on DTG's classic train simulator with this add-on!
Security policy
Secure payment via mollie
The model faithfully reproduces the visual, physical and sound aspect of this type 55 diesel electric locomotive.

Beyond the aspects mentioned above, here is a non-exhaustive list of the main functions reproduced:
Feature:
MEMOR.
TBL1+.
VA (automatic standby).
Realistic sounds.
Power and amperage conform to reality (with simulated motor torque).
Possibility to isolate the security system of the train.
Simulated cooling system (temperature, fans,..).
Commissioning in accordance with reality.
Different cabs depending on the train (Green cab, Memor cab, TBL1+ cab).
Real numbering and UIC inscription.
Advanced particle system (combustion smoke)
Realistic braking system.

Variants included in this pack:

5502
5503
5504
5507
5508
5513
5514
5515
5517
5518
5520
5521
5522
5524
5525
5526
5527
5528
5530
5532
5533
5534
5535
5536
5537
5538
5539
5541
Three exterior variants (full snow plow, simplified snow plow and without snow plow (only on 5518, 22 and 30).
Normal texture and winter with snow variant.
Official release date: Friday April 14, 2023.
No customer reviews for the moment.
Customers who bought this product also bought:
The 03 series (or AM 80) EMU, more often called Break, are triple railcars of the SNCB.

They can run at a maximum speed of 160 km/h, are single-voltage (3000 V) and have a good acceleration and deceleration capacity thanks to their greater power than the previous series.

The AM 80 were given the nickname "Break", partly because their design was radically different from what the SNCB had known until then.
SNCB HLE 13 locomotive
This add-on allows you to drive at a technical compliance level using the essential procedures to start and drive this locomotive.
However, you can also simplify the driving experience by deactivating the safety systems.
The 900 series is a series of EMU (two coaches) of the SNCB; they are more commonly called Sprinter (pronounced sprintèrre) or AM 86 after the year of the beginning of construction: from 1986 to 1991. It is characterized by its typical front wall which has the shape of a diving mask (which led to the nickname AM Cousteau). These railcars have a low mass; thus, in conditions of reduced adhesion, the braking and traction performances are strongly degraded.
The I11 coaches are modern UIC-Z coaches of the SNCB. They are suitable for speeds up to 200 km/h. Air-conditioned, they offer good comfort conditions with an interior noise level of only 65 dB at 200 km/h.
Take control of a type 55 diesel electric locomotive on DTG's classic train simulator with this add-on!
The series 21 locomotives (SNCB) are electric locomotives of the Belgian Railways (SNCB) equipped with thyristor choppers to modulate the power at start-up. They are technically very similar to the class 27, but with a lower power.
The series 11 and 12 locomotives are directly derived from these locomotives, and have the necessary equipment (for signalling and electrical voltage) to operate in the Netherlands and France respectively.