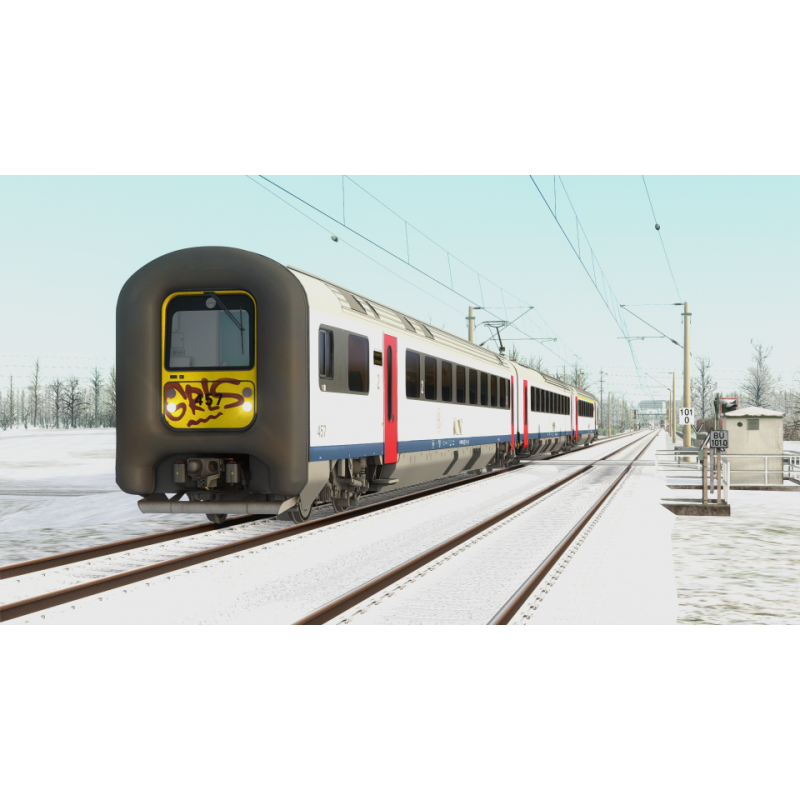  
SKTRAINS AM/MS 96 livery pack
This package give you the possibility to add 28 variants to the product

SKTRAINS AM/MS 96

.
/!\This package requires the SKTRAINS AM/MS 96 add-on available on this site. /!\
Security policy
Secure payment via mollie
This pack adds 28 different liveries to the SKTRAINS

AM/MS 9

6

product

.


In addition to the liveries, this pack also adds 3D nuances such as an aluminum frame on some versions, a frame for the first generation headlights, nuances in the stickers of the front numbering and other details.


More information in the PDF downloadable in the "download" section.
No customer reviews for the moment.
Related Products
The class 96 (MS96 in Dutch, AM96 in French) is an electric multiple unit constructed in 1996[2] for the National Railway Company of Belgium.
They incorporate features from the DSB IC3 trainsets in order to enable passage from one set coach to another. When two or more units are coupled together in a single train, the entire front door folds away to give a wide passage, and the rubber diaphragms at the ends form a flush aerodynamic seal.
Customers who bought this product also bought:
Price
€59.99
Regular price
€95.00
-€35.01
This pack contains all the Belgian locomotives we have produced.

This pack makes you save +- 35€. 
Price
€80.00
Regular price
€175.00
-€95.00
This pack contains all SKtrains products which represents a discount of 74 €.

Content of the pack:
HLE13
HVI10
HVM6
HV(R) I11
AM96+livery pack
M4
FALNS
AM86
HLE21-27
AM80
HLD55 Jellow
SNCB I10 coaches for Train Simulator 2021 of DTG. More than 35 variants and 12 versions.
Take control of a type 55 diesel electric locomotive on DTG's classic train simulator with this add-on!
The HLE18-19 locomotives are locomotives ordered by the SNCB from Siemens in 2006.

These locomotives are "ES 60 U3".

The series 19 is equipped with automatic GF couplings.
The series 21 locomotives (SNCB) are electric locomotives of the Belgian Railways (SNCB) equipped with thyristor choppers to modulate the power at start-up. They are technically very similar to the class 27, but with a lower power.
The series 11 and 12 locomotives are directly derived from these locomotives, and have the necessary equipment (for signalling and electrical voltage) to operate in the Netherlands and France respectively.