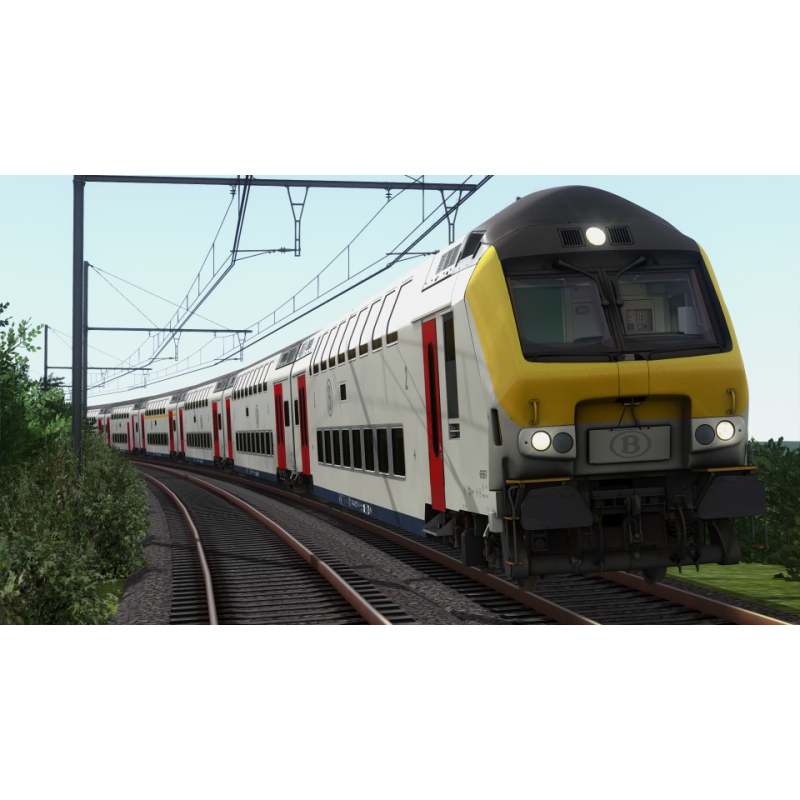  
SKTRAINS HV-HVR M6
M6 SNCB coaches from SKTRAINS for Train Simulator 2022.
Security policy
Secure payment via mollie
Description:
The SNCB M6 cars are UIC cars produced between 1999 and 2008.

These cars were designed to absorb the flood of commuters converging on Brussels on many lines close to saturation.


Contained in this pack:
16 coaches including:
4 A

1 A Become second class

4 B

1 B advertising

4 BD

2 ABD
4 Pull-push coaches including:
Automatic numbering on each car with real UIC numbers
SNCB logo
Functionality in the M6BX cars:
DUR

TBL1+

Deadman system

Realistic sounds

UIC and SNCB numbering on each car

impulse braking

No customer reviews for the moment.
Customers who bought this product also bought:
SNCB I10 coaches for Train Simulator 2021 of DTG. More than 35 variants and 12 versions.
The 03 series (or AM 80) EMU, more often called Break, are triple railcars of the SNCB.

They can run at a maximum speed of 160 km/h, are single-voltage (3000 V) and have a good acceleration and deceleration capacity thanks to their greater power than the previous series.

The AM 80 were given the nickname "Break", partly because their design was radically different from what the SNCB had known until then.
SNCB HLE 13 locomotive
This add-on allows you to drive at a technical compliance level using the essential procedures to start and drive this locomotive.
However, you can also simplify the driving experience by deactivating the safety systems.
Price
€37.00
Regular price
€45.00
-€8.00
This pack contains a set of coaches and a locomotive from the 2000s.
Contents of the pack:
HLE 13
HV(R) I11
HV(R) M6
The series 21 locomotives (SNCB) are electric locomotives of the Belgian Railways (SNCB) equipped with thyristor choppers to modulate the power at start-up. They are technically very similar to the class 27, but with a lower power.
The series 11 and 12 locomotives are directly derived from these locomotives, and have the necessary equipment (for signalling and electrical voltage) to operate in the Netherlands and France respectively.
This package give you the possibility to add 28 variants to the product

SKTRAINS AM/MS 96

.
/!\This package requires the SKTRAINS AM/MS 96 add-on available on this site. /!\
The 900 series is a series of EMU (two coaches) of the SNCB; they are more commonly called Sprinter (pronounced sprintèrre) or AM 86 after the year of the beginning of construction: from 1986 to 1991. It is characterized by its typical front wall which has the shape of a diving mask (which led to the nickname AM Cousteau). These railcars have a low mass; thus, in conditions of reduced adhesion, the braking and traction performances are strongly degraded.